Because toys play an important role in developing a child's imagination, creativity, coordination, and ability to solve problems, the toy industry actually plays a very important role in our society. One of the toy industry's biggest challenges is to keep up with the changing world and crank out toys that appeal to today's modern children.

As a result, the toy industry is constantly changing. Today the $21 billion toy business isn't just about making products that entertain, educate and engage kids. Instead, the toy business has turned uncharacteristically corporate, driven by concerns about stock prices as well as social and demographic changes. This means that kids of increasingly younger age are being targeted by advertising and branding campaigns, as well as other selling techniques that were formerly reserved only for adults.

It is estimated that about half of all the commercials that an average child sees are for toys, and many of these commercials are designed to influence what kids want next.

As kids grow older faster and abandon their toys earlier, the toy business struggles to keep up by introducing toys that rival electronics products such as MP3 players and cell phones. Unlike the toy business several decades ago, today's toys are not necessarily designed to encourage creative play. In fact, many are designed to perform at the touch of a button, thanks to embedded computer chips and scripted storylines. In addition, many of today's toys are designed to entertain rather than to be played with. Also popular among the large toy companies are toys based on television programs and movies. Many of these toys are companions to toys and accessories in the same line, which means when children grow tired of them and discard them, repeat buying is assured.

Today's toy business is not necessarily made up of manufacturers, as most of the toys sold in America today are made offshore in places like China or Hong Kong. Instead, many toy companies in the toy business today concentrate on research, marketing, and advertising.

But as the toy business has become more commercial, more and more smaller toy manufacturers are coming on the scene. These manufacturers are interested in bringing back the original integrity of the toy business, and are doing so by inventing toys that are once more designed to stimulate, entertain, and educate.
---
Copyright © Zeducorp.
All rights reserved.

The Toy Business
Kids' Toys - with ASCII Characters
Related Image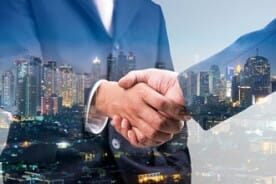 Business Transaction and Handshake